---
BIRTHDAY OPEN HOUSE
---
YOGA NIDRA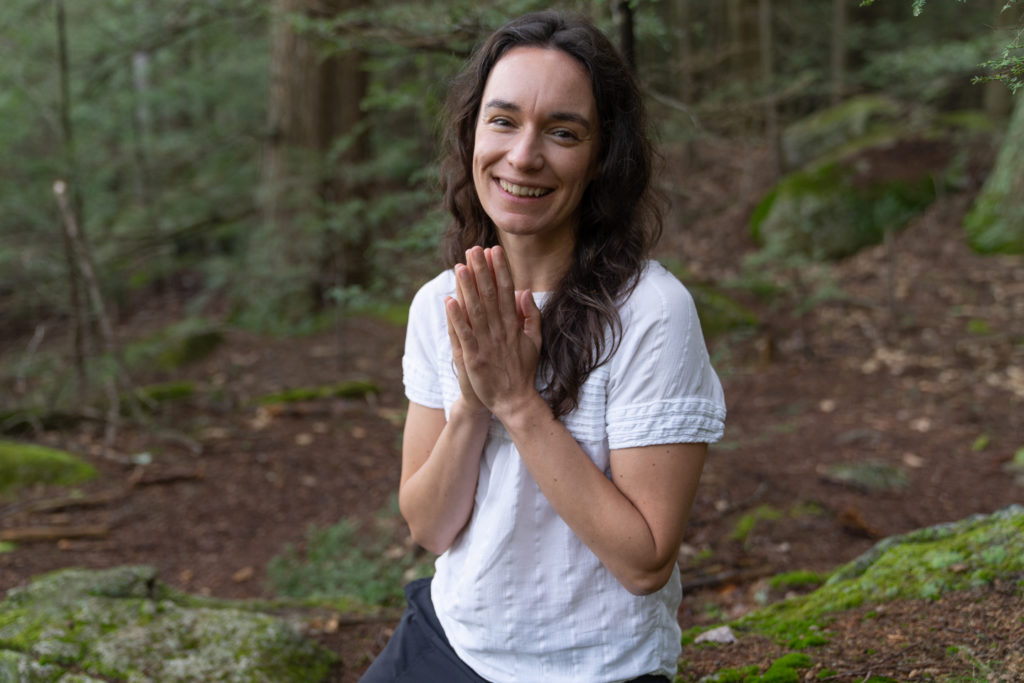 Step out of the busyness of life and into ease and relaxation through the soothing practice of Yoga Nidra, an ancient meditation technique. After getting cozy and comfortable, Dr. Caitlin Clarke, PhD, Integrative Psychologist, will guide you through a practice that will help you to integrate all levels of your body, mind, and soul. You will leave feeling refreshed and ready to celebrate life with meaning and joy.
Saturday January 28
10:30-11:30
by donation
donations go to the Monadnock Humane Society Register at alohakeene.com
---
Authentic Movement, Dance and Memoir Writing with Bronwyn Sims!
Authentic Movement, incorporates movement to promote self-exploration and improved mental health. In Authentic Movement, participants are encouraged to focus their attention on the present and act out their inner emotions through improvised dance movements while keeping their eyes closed in order to reduce distractions. In Memoir Writing we are asked to dig into our past and write about those experiences that have had lasting impact on our own lives and express these memories in writing. The goal of this workshop or class is to guide participants to connect with their bodies and minds and let their inner experiences move them. In this workshop or class we will be exploring our physicality and movement in an improvised, playful and authentic way. Students will be given prompts to inspire their movement explorations. We will then take what we experienced in movement using what we felt emotionally and physically during the authentic movement exploration and channeling that into Memoir writing. We will then begin to free write in a journal or on a laptop. This workshop will culminate in an informal presentation of your material either written and read or improvised / performed. This workshop is open to everyone ages 16 and up. This workshop is for Creator/Devisers, Actors, Dancers, Writers, folks in the second half of life, folks who wish to examine their lives, folks who wish to leave a memoir for their family or whomever! If you have any questions please email Bronwyn bronwyn@strongcoffeestage.com
February 4, 1-4, Bronwyn guiding,$55
Register at alohakeene.com
---
LUNAR NEW YEAR CELEBRATION 2023 YEAR OF THE RABBIT WITH PAMELA BYS, L.AC AND QIGONG INSTRUCTOR
Pamela will guide you through some folklore, playful qigong movements like that of the rabbit;  to develop abundance in your life for fast reflexes,  good coordination, while creating a relaxing atmosphere and meditation.  Experience an auricular treatment to support relaxation, a celebration of tea and treats and origami.
SUNDAY, FEBRUARY 5, 2023
TIME: 10AM-12PM
COST: $45
Register at alohakeene.com
---
CONVERSATIONS ON AGING AN AYURVEDIC PERSPECTIVE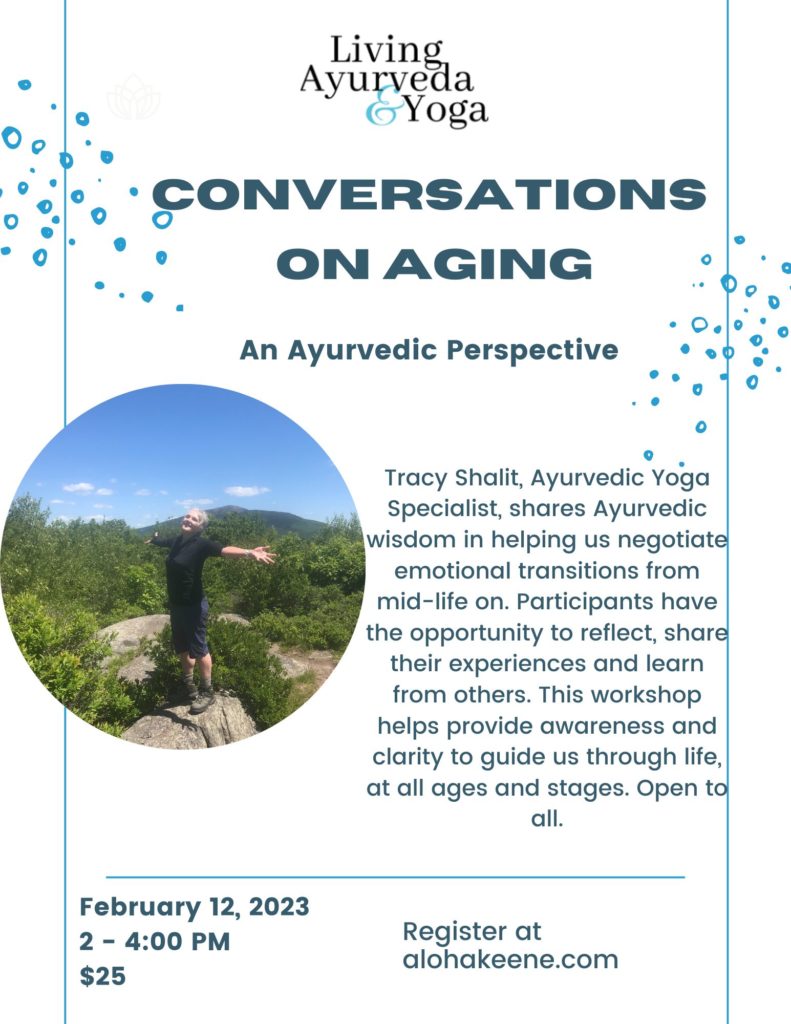 ---
PARTNER YOGA WITH COCOA
---
PRANAYAMA WORKSHOP AT ALOHA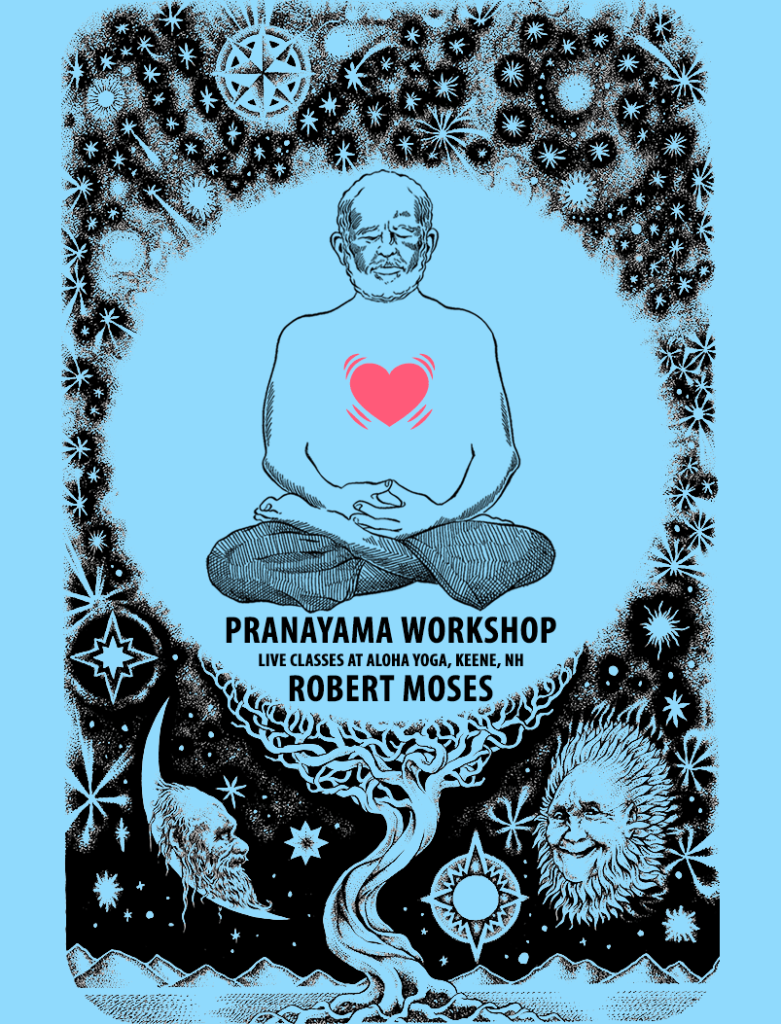 4 SUNDAY CLASSES 9:30 – 11:00 AM FEBRUARY 19 & 26 MARCH 5 & 12
SLIDING SCALE: $120 to $150 (Minimum $120)
Classes will be a combination of theory and practice. You will learn a comprehensive overview of Pranayama from its traditional yogic perspective as well as a modern scientific understanding of this ancient practice. You will practice a simple six-step protocol that helps maintain physical, mental and emotional health as well as a variety of pranayama exercises derived from hatha yoga texts. We will study how the practice of Pranayama helps to regulate the nervous and endocrine systems of the body which leads to resilience and recovery from imbalance.
Subjects we will discuss.
What exactly is pranayama
History and definitions of pranayama
Sariras and Panchakoshas (3 Bodies and 5 Sheaths)
Anatomy and physiology of breathing
Mechanisms of breathing – breathing muscles & pressure changes
The Respiratory passageways and the lungs
Oxygen, Carbon Dioxide and Nitric Oxide & Blood pH levels
Overview of the nervous system
The Vagal Nerve Complex
Heart Rate Variability
Nadis and Granthis
Pranayama in the Hatha Yoga Pradipika
Shatkarmas (Yogic cleansing exercises) Neti & Kapalabhati
Major Mudras & Bandhas in Hatha Yoga
Register at http://namarupa.org/product/pranayama-workshop-at-aloha-keene/.
---
Inversions, core strengthening, shoulder stability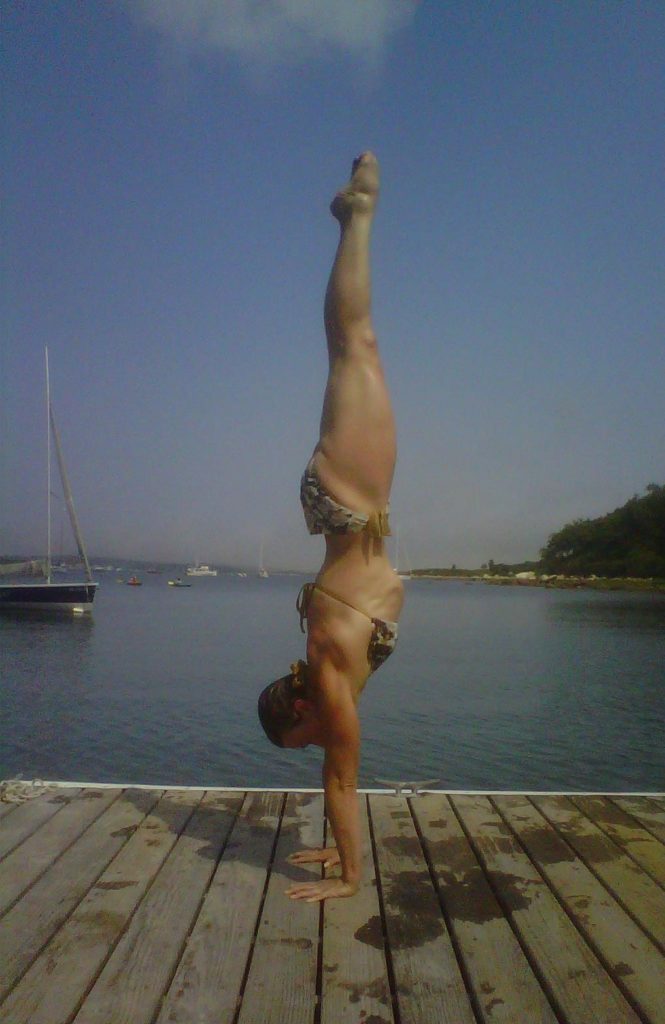 Join Bronwyn and discover the positive effects of an inversion practice, from the physical body all the way down to the most subtle aspects of your being. Whether you are going upside down for the first time in your practice, or if you are more experienced aiming to hold inversions with more steadiness and without support, this workshop is appropriate for you! In this workshop series you will learn the basic elements of handstanding and other inversions, and arm balances, including creative and fun exercises that build upper body strength and flexibility, as well as injury prevention for shoulders. If you have any questions about this workshop please feel free to email Bronwyn at bronwyn@strongcoffeestage.com
Bronwyn, February 25, 10-12, $35
Register at alohakeene.com
---
Advanced Vinyasa Flow-Jivamunkti Style
The challenging experience of this Vinyasa practice strengthens and stretches the body, helps to quiet the mind, and uplifts the heart.A typical class begins with the chanting of OM and sometimes Kapalabhati breathing, which is a Kriya, or purifying practice. Ujjayi breathing is emphasized throughout the class. We then move into sun salutations and standing poses for 30-45 minutes, too warm the body and establish a centered mood. We focus on deep breathing, in a Vinyasa flow, and on proper alignment. The rest of the class is devoted to Asana on the floor: a well-rounded blend of twists, forward bends, backward bends, balances, inversions and rests, carefully sequenced so as to access the inner grace in the more "difficult postures." We will gear the class towards focussing on one or two more advanced poses each week. The class will be a more advanced Vinyasa flow with exciting and risk taking sequences and movement that will take you out of your comfort zone. The class closes with a substantial final relaxation sequence. As we practice imbuing our efforts with grace, this approach becomes habitual and intrinsic to our nature on and off the yoga mat. Through the flow of our Vinyasa practice, we unfold toward greater self-awareness and acceptance, increased resilience and compassion, a healthier, calmer way of being.
$90/3, $40/1,March 11,18,25,10-12
Register at alohakeene.com